Improve your skills with a home built climbing wall
Building your own rock climbing wall at home is one of the most effective ways to improve both skill and strength. Allowing you to not only take on more challenging climbs sooner but also enjoying the thrill of rock climbing at any hour.
A purpose-built timber frame & plywood climbing wall can be as straight forward or as complex as you like. To build any wall, the steps will generally remain the same. Below is a rough outline of where to start and things to keep in mind.
Do you need a climbing wall Designer or Builder?
The design of your climbing wall is going to be a product of many variables including, but not limited to:
Your budget; do it yourself or pay someone else?
Your level of building/carpentry skill and knowledge
Space available; do you rent the space or own it?
Primary user group
Location; basement, shed, 2nd floor, limitations
Goals for using the wall; is it for fun or some serious training?
We are assuming your wall is not a commercial venture
Download some basic climbing wall plans from other sources on the internet here: Basic Climbing Wall Plans.pdf and Plywood Climbing Wall.pdf.
Pictures below are examples of timber frame and plywood climbing walls.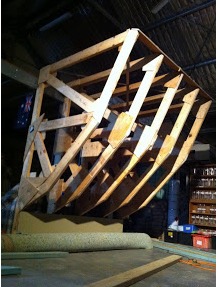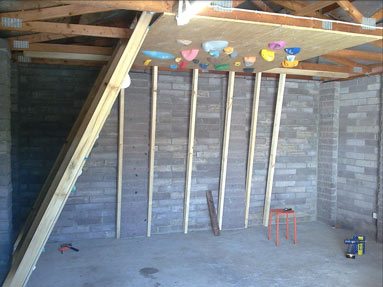 Now you need to gather the materials needed to construct your home rock climbing wall. For a basic plywood wall with timber framing, along with all the obvious carpenters tools you will need for construction, you will require some other specialised hardware. (This list is by no means complete and will be different for everyone and every design)
Carpentry tools like saw, screw driver, hammer, drill with bits etc
Structural plywood 1200 x 2400 x 17mm (minimum)
Dimension lumber such as 4x2, 6x2 depending on design
Wood screws, metal screws
3/8" threaded t-nuts
Primer and paint if you decide to paint and / or texture your wall
Textured paint, or your own recipe
3/8" bolts
Climbing holds
Some friends to help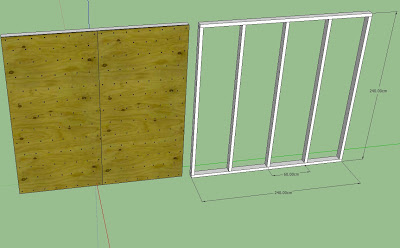 Building the Frame
Construct the frame that will be holding the plywood. For framing standards please consult an engineer.
In this picture is a very simple 2.4m x 2.4m vertical climbing wall showing the framing. Generally the spacing between the studs should be 60 cm (to the centre of the stud)
The angle of the wall can be anything you like from vertical to steeper angles like 60 degrees past vertical and completely horizontal.
Steeper walls will require more framing that should be designed specifically to support the wall.Again consult an engineer.
---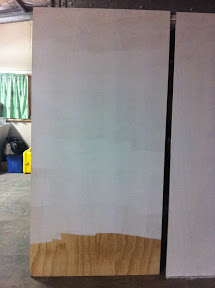 Preparing the Plywood
If you will be texturing or painting your wall, you can do this first and paint every sheet of plywood you think you will need. If you use 17mm plywood it is also possible to paint the wall as the last step. If you use a roller to paint the wall, it is unlikely you will get paint in the t-nut threads if you are careful. The t-nut is only 11mm in depth, which will leave you a buffer of about 5-6mm to the surface of the plywood.
The plywood in the picture to the left has been painted with a white primer coat, then a coat of textured paint. Don't pay extra for textured paint, make your own. Simply add some dry, fine beach sand to a latex paint in whatever colour you choose. A good ratio is for every 4L can of paint add 1-2kg of sand. Apply as normal with a roller.
Cheap Paint? If you are not too set on a particular colour for your wall, head to a hardware store and go to the paint section. Most will have a an assortment of pre-tinted paint that customers have returned or changed their mind about. You can get a 4L tin of paint for 50-70% off!
Plywood Choice? We recommend to use a minimum thickness of 17 mm plywood for your wall. Structural plywood is best and comes in sheets of 2400 x 1200 mm.
TIP: design your wall to utilise full size sheets of plywood and save yourself lots of measuring and cutting!
---

Drilling Holes in the Plywood for T-nuts
Now that the frame is ready you need to drill holes in the plywood and insert the t-nuts which will allow you to attach the holds to your wall. In the picture below, 4 sheets of plywood have been stacked together and raised off the floor with 4 x 2 according to the spacing of the framing for the wall they are going on. Drilling 4 sheets at a time saves time and you lots of drilling.
TIP: Use a drill bit that is closest to the diameter of the t-nuts, without being exactly the same size to make hammering them in harder. Having a better fit will help to ensure the tnuts go in straight. For all the t-nuts we carry, the best size drill bit is 12mm or 7/16"
TIP: if your wall has uniform framing, mark the studs on one sheet of plywood, then place this sheet on top of your other sheets of plywood and drill as many sheets as your drill bit will accomodate at once and save yourself a lot of drilling.
TIP: when drilling the holes for the t-nuts through multiple sheets,it is very important to keep the drill bit perpendicular to the plywood.
TIP: placement of the holes for the t-nuts can be random or in a grid, (just not where your studs will be) a good ratio is 70-100 tnuts per full sheet of plywood.
---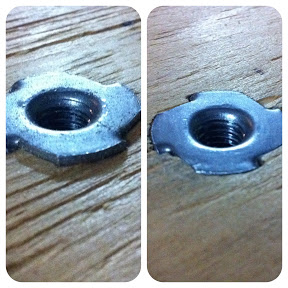 Adding T-nuts to the Plywood
The holes are drilled, now it is time to hammer in the t-nuts.
TIP: if you can, lay the plywood flat on the floor, concrete is the best, get some ear plugs, and hammer away.
TIP: Try hard to hammer the t-nuts in straight, as this will reduce cross threading later when you attach holds.
TIP: this is a job for your mates!
TIP: Hammer the t-nuts in until they are flush with the plywood.
TIP: Make sure you get the t-nuts flush with the plywood, the t-nut on the left has not been hammered in fully.
Yes, attaching a hold and tightening it will pull the t-nut flush to the plywood, but it places a lot of stress on the t-nut wher the threaded sleeve joins the base and weakens it enough for it to fail, especially zinc plated t-nuts.
TIP: Over-tightening holds pulls on the t-nut threaded sleeve, and weakens it where it joins the base of the t-nut.
---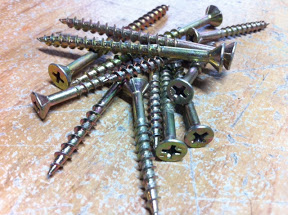 Attaching the Plywood to the Frame
Using at least 10 gauge wood-screws that are twice the thickness of your plywood or more, attach your plywood to your frame from the bottom up. Screw density should be approximately every 20 cm or more along the outside edge of the plywood and along any internal studs.
---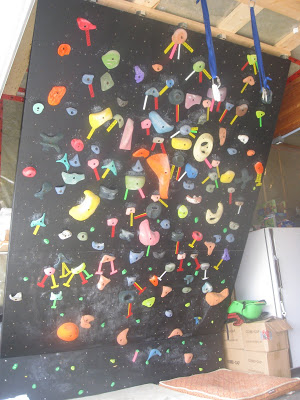 Add Climbing Holds to your Wall
Second to last step is to attach your climbing holds to the wall. The majority of climbing holds will be attached to your wall using bolts with a 3/8" thread, that come in a variety of lenghts and made of a variety of metals. You will need an Allen key to tighten the holds or a special tool designed specifically for this purpose.
Some holds are attached with only screws and are called, obviously, screw-on holds and all you will need is some screws and the appropriate screwdriver.
There is no proper orienation for a climbing hold. However different orientation will make most holds either more positve and easier to hold onto, or harder. Thus you can change a wall simply by changing the orientation of the hold. Since you went to the trouble of hammering in about 80 t-nuts per sheet of plywood, you can also change your wall by moving the holds around.
TIP: Do not over-tighten holds. It will weaken the t-nut, and it could potentially fail.
Now that you have a climbing wall you are going to need a soft surface to land on. There are many ways to accomplish this and again depends on your budget. Contact a local upholsterer and make a deal to take all their off cuts for a couple months, as they have to pay the local landfill to dispose of it. That is of course if they actually throw away their offcuts, as foam is very, very expensive.
Once you have ample amount of offcuts, cover the lot in low pile or thin industrial type carpet that you can also easily recover from the tip for next to nothing. To prevent the carpet from moving all over the place screw it to the very bottom of your wall. Padding will not be required within about 30-40 cm of the base of your wall.
If you need thicker padding, old mattresses work great. Once you get a couple layers of mattresses piled offset like bricks, apply some of the foam offcuts on top, then the carpet and your good to go. If your wall is not too big you can also use a bouldering pad for softening landings.
You've done it! Now you are ready to climb. Some accessories you may want to consider are chalk and a chalk bag to help keep your hands dry, some route/problem marking tape to create some boulder problems and to keep your hands in perfect condition after climbing maybe a Climb On! lotion bar.
Important Note:
The information on this page is provided as a rough guideline for building a climbing wall along with tips and recommendations only. None of the climbing wall designs on this page have been drawn, certified or provided by engineers or architects and they do not meet any known standards for climbing wall design & construction. Consult an engineer or
builder
prior to constructing your wall.
(Australian Standard 2316.1-2009 for commercial Climbing Walls)